Summer 2022
30.6.2021
Laadukas e-fatbike GZR Dominance 2.0 6 h + sauna+ yöpyminen teltassa kuunnellen kosken kohinaa + maittava aamupala 95,00 €. Varaukset numerosta 040-5799725 / ilkka tai ilkka@bikercamp.fi
21.6.2020
We opened cafe in our camping. Its open every day for campers.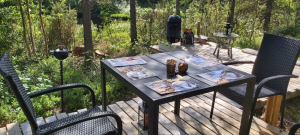 We have also new summer kitchen. We serve breakfast 7.90€ and food portions as desired from the kitchen. Meiltä saa aamupalaa hintaan 7.90€ sekä erilaisia ruoka-annoksia matkailijan toiveiden mukaan.
11.6.2020
Tomorrow starts season 2020 and 3th summer of Bikercamp Oijärvi. Huomenna aloitetaan kausi 2020 ja kolmas kesä Bikercampille !
24.5.2020
Due to the late spring we will open 12.6.2020. Tent area is under water, and road is in bad condition. Please follow our Facebook, there will be intresting updates !  Myöhaisen kevään ja kelirikon vuoksi avaamme 12.6.2020. Seuratkaa Facebookissa, mitä kaikkea uutta meillä on matkailijoille tarjota !
21.07.2019  Building summer kitchen.
08.07.2019   Remember follow us on the Facebook (Bikercamp Oijärvi)'
                        Here some pictures for last two weeks…
20.06.2019   We are open.
15.2.2018
Web pages opened, now is the winter and we all look forward to the summer. Pages will be updated during spring.
 

18-20.5.18  

Clearing the tent area with Typsy




28.05.2018  

Nearly ready... moon and sun are shining together !



01.07.2018  

Bikercamp is OPEN !

 



02.07.2018

Yes, we have mosquitoes, but we can do something to reduce them...and it works !




03.07.2018 

The First guests are from Finland !



12.07.2018 

The hot tub is warming every weekend..

16.9.2018

The Autumn is here. Now its time to sleep outside in the lean-to !



18.10.2018

 Wé are closed until 20.6.2018. You can still book private accommodation !
 We want to thank all our guests and wish a wonderful winter ! 



21.10.2018

Last visitors  of this autumn...